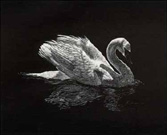 ---
What is Scratchboard?
Paula G. Waterman

Scratchboard, also known as scraperboard, is a drawing medium using line rather than a painting medium. It is a black and white medium.

The board itself is bought prepared (factory-made) or made at home. It is a board support with a very thin veneer of fine white clay coating its surface. This makes for a fairly brittle surface that could not be rolled, but is somewhat flexible in its factory-made form. A layer of India ink coats this clay surface or parts of it.

A scratchboard drawing is made using a sharp-pointed instrument (etching point, exacto blade, etc.) to make white lines in the inked areas by "scratching" or scraping a line of inked surface off. The purpose of that clay coating under the ink is to buffer and allow the sharp point to remove ink cleanly without tearing the paperboard support; it accepts the cutting point and gives a very clean and very white line.

The difference between black scratchboard and white is that, in black scratchboard, the entire surface is coated with ink and so gives a black background to the work. A white board comes from the factory without any ink coating. The artist must then put the ink on selected areas of the board, either with a brush or by spraying it on. When the ink is dry the artist may then proceed to use the scraping tool as previously described.

I buy my scratchboard myself using an airbrush which sprays the ink in a fine mist. I can choose to make the board very black or any level of gray by controlling how much ink I spray on. I then make the shape of the subject black and then scrape.

The process of scratchboard is not as technically challenging as it sounds. It is drawing and good scratchboard art requires good composition, good drawing skills, an ability to plan ahead, and an ability to see and use light. For that is the essence of scratchboard, and really of all art: Light's effect on surfaces.
More Paula Waterman Scratchboards...
---
McBride Gallery Homepage / Show Schedule / Artist List / Gallery Services / By Medium / By Subject